Coronavirus Outbreak Michigan
Coronavirus Cleaning & Disinfection Michigan
Michigan Same-Day Disinfecting Services Available
Professional Michigan Coronavirus Cleaning & Disinfection
The United States Coronavirus (COVID-19) outbreak has people rushing to protect themselves, their houses and businesses from potential coronavirus contamination. In addition, the effects of this type of biohazard situation can last up to 7 days and the spread of the coronavirus has led to a increased number of deaths in the United States. Strength H2O Industrial Solutions is the industry leader in infectious disease and coronavirus disinfection. Including coronavirus disinfection, we deliver the most professional standards possible. Our team of coronavirus disinfection experts are dedicated to providing immediate emergency response 24/7 throughout the United States.
Coronavirus Disinfected & Protected
 We have years of experience in dealing with biological contaminants, and we will go beyond the scope of work that regular janitorial staff perform on a daily basis. Our  Michigan coronavirus cleaning professionals are trained to perform a proactive cleanup that involves facility or structure cleaning and disinfection. Cleanup procedures generally include cleaning of porous and non-porous surfaces, disinfecting of non-porous surfaces, cleaning and disinfecting of equipment, tools, and/or supplies used for cleanup process, and disposal of waste.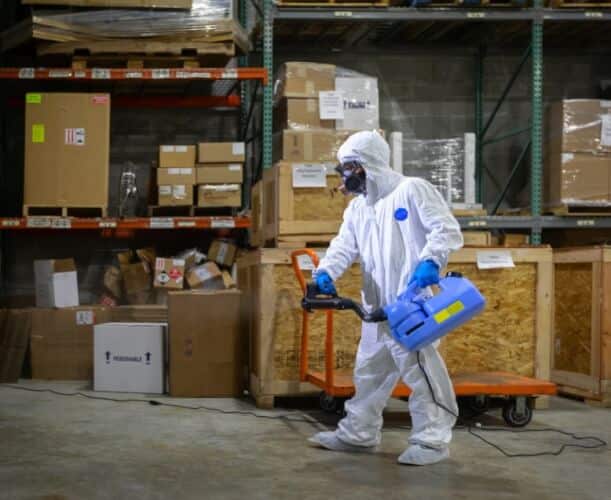 Michigan Coronavirus DISINFECTING SERVICE
How We Disinfect And Clean The Michigan Coronavirus
Strength H2O's team of experts created a 3-Step Solution using an EPA approved biocide for commercial and hospital use, following all World Health Organization protocols.
One of the best ways to prevent the spread of the Michigan Coronavirus is to regularly clean and disinfect regularly touched surfaces.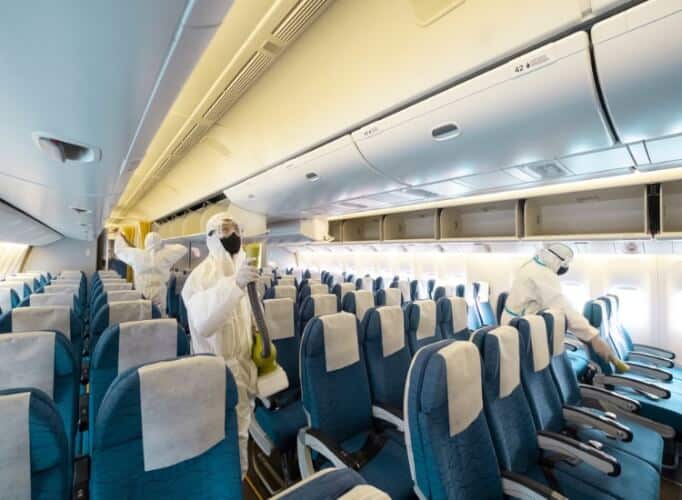 STEP 1 Electrostatic disinfection
Electrostatic disinfection sprayers utilize electrically charged tips on the end of the sprayers to add a positive charge to droplets that literally seek out and wrap bacteria, viruses, and germ-infested areas in a negatively charged world.
Electrostatic droplets tend to repel each other and not overlap, which provides for uniform dispersion and virtually 100% coverage of the area that is being sprayed. Therefore being one of the most effective processes to treat an area affected by Michigan coronavirus.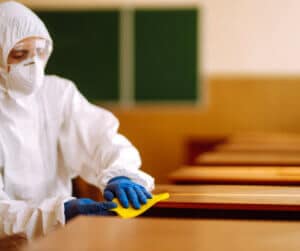 Our highly trained professional spray and wipe all surfaces 10 Ft down. Hand clean, disinfect all high touch areas providing an additional layer of protection for your company.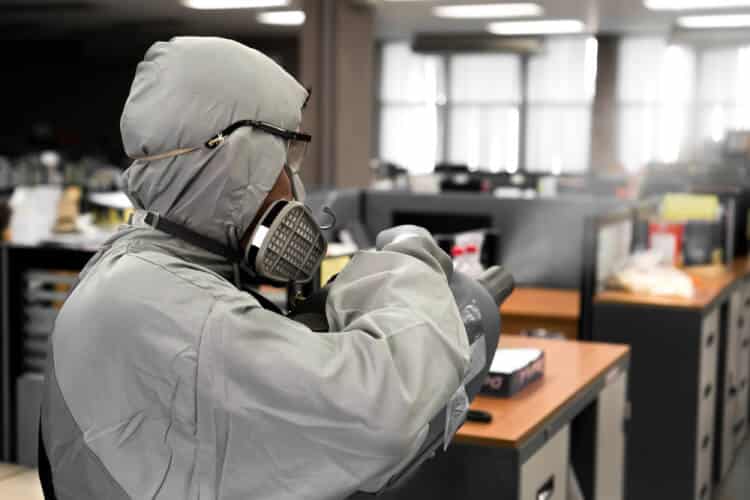 STEP 3 final Electrostatic disinfection
The final Electrostatic disinfection is light and does not leave any residue or strong smell. As soon as we complete this step, you can reenter the facility without any fears of catching the virus. 
What Our Customer Say About Us
Strength H2O maintains a 100% customer satisfaction rate on google and takes pride in providing our customers with the highest level of services available!
Great group to have work completed by! They take pride in the work they complete and provide the best industrial cleaning services!
Robert White-Operations Manager Detroit 
Glad we contact Strength H2O for our industrial cleaning needs! I would highly recommend using them! In our opinion, best Detroit industrial cleaning company!
Jacob Robinson JR-Plant Leader Romulus MI
Best Industrial Cleaning Company in Michigan we have ever had work performed by, I would suggest giving Strength H2O a call! 
David Tango-Manufacturig Facility Owner Kalamazoo MI
Great company to do work with! Best Michigan Tank Cleaning Company!
Matthew Sanders-Plant Manager Grand Rapids MI
Great Industrial Cleaning Company in Michigan to have work completed by! Strength completed a deep clean of our new Michigan facility and we could not be happier with the quality of services they delivered! Highly recommend them!
 Daniel Dzikowski-Facility Owner Detroit MI
Great Industrial Cleaning Company in Michigan to have work completed by! Strength completed a deep clean of our new Michigan facility and we could not be happier with the quality of services they delivered! Highly recommend them!
Devin Orsi-Facility Manager Grand Rapids MI
Best inudstrial cleaning company we have ever used, I can't thank you enough Scott! Keep up the good work and see you guys in few weeks!
Kraig Westner-Operations Supervisor Canton MI
Our company needed to hire a new industrial cleanin company, we decided on Strength H2O and it was a great decision! We have never been happier and I would highly recommend them!
Terry Williams-General Manager Battle Creek MI
Great company to work with and Michigans Best Industrial Cleaning Company! I would highly recommend them for any of your industrial cleaning needs!
Jerald Simmons-Manager Flint MI
Strength H2O is a hardworking and dependable company to work with, I would highly recommend them.
Christopher McFall-Shift Supervisor Sterling Heights MI
Strength H2O helped me out of a bind and did great work for my company, we will def be using them again in the future.
Mark Wilson-Commercial Property Owner Mid Michigan
Strength H2O Industrial Solutions has completed several project for my company on-time and does amazing work!
Henry Keller-Manufacturing Owner Michigan
Reopening After The Michigan Coronavirus
Many businesses are looking forward to reopening day, and every business is trying to find the best way to keep its workplace clean and free of the coronavirus. That is why Strength H2O Industrial Solutions an industrial cleaning & infectious disease control company, would like to offer some coronavirus cleaning guidance for everyone working through this crisis. We are all in this together and we look forward to everyone getting back to business as safely as possible.
As your Michigan business schedules to reopen and return to regular business operations, it is extremely important to make certain the needed precautions are taken. Reentering a facility after the coronavirus outbreak requires more than basic cleaning or janitorial services, it requires a company with the experience of handling biohazard cleaning and virus outbreaks. Strength H2O Industrial Solutions along with our with our environmental professionals have created comprehensive cleaning protocols for all types of Michigan commercial facilities looking to reopen after the coronavirus outbreak. In addition, all cleaning and disinfection services utilize hospital-grade, EPA registered products used in our proven 3/4 step Michigan coronavirus cleaning & disinfecting services.
Most Importantly, our team of professionals have created a comprehensive Michigan Facility Reopening Guide for commercial facilities preparing to re-enter the workplace. The guide covers important aspects of employee communication, business operations preparation and facility preparation.
FAQ's Regarding Coronavirus Cleaning & Disinfection
Things to consider when hiring a professional to clean your business!
Disinfecting vs Sanitizing Services
Disinfecting services use a disinfectant which is any chemical that destroys or irreversibly inactivates microorganisms on surfaces. Sanitation services tend to use less potent chemicals, sanitizers, which reduce but not always eliminate microorganisms from materials. Hospital-grade disinfectants and disinfection services are best used for infection control, like the coronavirus, where sanitizers and sanitizing services are best used in relation to food, carpet, or clothing. Our team of experts have cleaned over 15 million square feet so far and are ready to help get your business ready to open!
Strength H2O utilizes a proven 3 step process that provides business owners with piece of mind knowing their property was cleaning properly.
3/4 Step Process vs Fogging
Do All Companies Provide FREE ATP Testing
Suspected or Confirmed Case Require HAZMAT
Best Time To Disinfect My Business
What Is Decontamination Services?
What Is The Difference of Decontamination vs Preventative?
Do You Have Questions or Concerns You Would Like To Discuss With A Pro?
If you have questions or concerns you would like to discuss, please feel free to contact one of our disinfection experts by filling out the form below or call 734-999-0444. Our team will contact right away and are happy to answer any questions you have.
ATP Testing- A Proven Method To Measure Cleanliness
 How do you know the company that is supposed to be completing your coronavirus disinfecting is completing the task? ATP testing offered by Strength H2O Industrial Solutions give you a piece of mind know its completed correctly. This measures residual organic matter that may remain after a surface, device or piece of equipment is cleaned. Adenosine triphosphate (ATP) is an enzyme that is present in all organic matter—living and once-living—including blood, saliva and bacteria. Essentially, the person conducting ATP monitoring swabs the surface to be tested and inserts that swab into a handheld unit called a luminometer.
The last method—ATP monitoring—has shown promise as an objective and reliable means to measure cleanliness. Products like Hygiena's System SURE Plus ATP cleaning verification system allow users to simply swab any surface and drop the swab into a handheld detection unit (luminometer) that immediately measures the results, and report and analyze the data through a specialized software system.
Hygiena's SureTrend software application helps EVS managers track ATP test results, quickly home in on problem areas, and compare results among different units or multiple facilities. The software allows managers to generate pre-set reports that can be easily shared among EVS and other frontline staff, and with the infection control department and hospital leadership. SureTrend also allows healthcare facilities to maintain records to ensure compliance with in-house and regulatory practices and policies.
Trust Is

Earned Not Give

n
The Western Connecticut Health Network has used Hygiena's ATP system for three years, says Michael Murphy, CHESP, REH, director of support services and system specialist at the Norwalk, Conn.-based healthcare system. An EVS supervisor or manager swabs high-touch areas in 10 rooms on each shift—day and night, occupied or unoccupied. The hospital also conducts random testing that includes equipment like stretchers and wheelchairs.
Before the hospital launched its ATP testing system, EVS staff relied on visual inspection and fluorescent markers to gauge a room's cleanliness.ATP testing, he says, is a "trust but verify" approach to monitoring cleanliness. "Before, you might walk into a room, verify that it looked and smelled clean—and hope that it actually was clean. Now, you know whether that room is clean or not. It gives you peace of mind—and a qualitative approach to sharing data with your staff. "

He explains how the process works: "We'll approach a housekeeper and ask if he or she is done cleaning. We'll walk in the room behind that staff member and start swabbing. We check both discharge and occupied rooms—one to 10 swabs in each room. The EVS employee sees the score and signs off on it. "

According to the CDC, they are responding to an outbreak of respiratory disease caused by a novel (new) Coronavirus that was first detected in Wuhan City, Hubei Province, China, and which has now been detected in 37 locations internationally, including cases in the United States. The virus has been named "SARS-CoV-2," and the disease it causes has been named "coronavirus disease 2019" (abbreviated "COVID-19").
Coronaviruses are a large family of viruses. Some cause illness in people, and others, such as canine and feline coronaviruses, only infect animals. Rarely, animal coronaviruses that infect animals have emerged to infect people and can spread between people. This is suspected to have occurred for the virus that causes COVID-19.
Common signs of infection include respiratory symptoms, fever, cough, shortness of breath, and breathing difficulties. In more severe cases, the infection can cause pneumonia, severe acute respiratory syndrome, kidney failure, and even death.*
How Can I Protect My Business & Staff From The Michigan Coronavirus?
There are currently no vaccines to prevent coronavirus disease in 2019 (COVID-19). Using everyday prevention actions in your office can help prevent the spread of the disease.
Clean and disinfect frequently touched objects and surfaces 
Stay home when you are sick  
Avoid touching your eyes, nose, and mouth  
Cover your cough and sneeze with a tissue, discarding the tissue immediately in the trash 
It goes without saying, but when possible, avoid close contact with people who are sick} 
Wash your hands with soap and water frequently for at least 20 seconds. Cleaning your hands should be done after going to the restroom, before eating, after blowing your nose, sneezing or coughing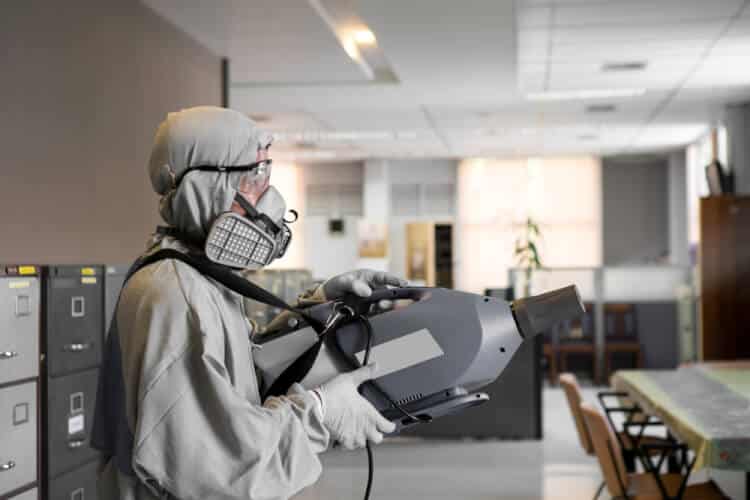 High-Risk Areas For Bacteria Accumulation In The Workplace
Positive Effects From A Clean Office
Removing dust, dirt, and germs means your employees will get sick less often, and individuals with allergies will have to contend with fewer allergens  

An immaculate office appearance creates an image of professionalism and attention to detail, suggesting to customers that your business offers real value and doesn't cut corners 

A clean, fresh environment will boost your employee's mood which will lead to higher productivity 
How Are We Able To Clean Coronavirus?
Coronavirus as we know it is insidious. It can live on surfaces for up to 7 days and people infected by the virus don't start to show symptoms until approximately two weeks after infection, making it difficult to track and contain. Therefore, therefore having a trusted coronavirus disinfection professional remediation company on your side is extremely important.
Strength H2O Industrial Solutions follows all OSHA regulations and works tirelessly when it comes to coronavirus disinfection disease cleanup. Coronavirus (COVID-19) is a fairly new disease, our team of coronavirus disinfection experts follow the latest information and keep up to date on the industries best practices.
Our Michigan Coronavirus Cleaning Customers Say...
Strength helped us out of a bad situation and had us back running production again in a 18 hours. They were professional and easy to work with.
The disinfected our facility during the night so we didn't lose production time. Great company that does great work!
We contact Strength for an emergency coronavirus disinfection, the responded immediately and worked non stop to get us running units again. 
Simply amazing how they completed our facility and stopped us from losing several days, Thank You Again Scott!
After contacting 2 different companies we were lucky enough to call Strength, they immediately came and helped up so much. We would highly recommend contacting them, before anyone else!
Great company that helped during a difficult time, highly recommend them!
DISINFECTING THE CORONAVIRUS 
We Use CDC And EPA Approved Industrial-Strength Disinfectants With A Broad Spectrum Kill Claim

All Infected Materials Are Cleaned, Disinfected, and Properly Disposed of As Biohazard Waste

Fully Sealed Personal Protective Equipment (PPE) and Full-Face Respirator Masks Are Worn At All Times 

We Follow A Coronavirus Demobilization Process For Our Equipment & Trucks.
Coronavirus (COVID-19) outbreak is an extremely serious situation and we understand that the health and safety of you, your family, and employees are on the line. Don't take any chances; call in the professionals at Strength H2O Industrial Solutions. 
Strength H2O Industrial Solutions Michigan Coronavirus Cleaning Services Plans:
Choose An Action Plan That Best Suites Your COVID-19 Needs
YELLOW TIER:
Proactive Coronavirus Disinfection Care Michigan
Our Yellow Tier package is a precautionary and preventative coronavirus disinfection plan. It is not in response to any suspected nor confirmed case of COVID-19 Coronavirus. It is simply out of an abundance of caution and care for the patrons, customers , residents, employees and the community of a business or apartment complex. It consists of daily, bi-weekly or weekly cleaning and disinfection.
ORANGE TIER:
Reactive Coronavirus Disinfecting Response
Orange Tier is a cautionary and focused coronavirus disinfecting plan. It is in response to a suspected case but not a confirmed case of COVID-19 Coronavirus. This plan is best after a person suspected of being infected with COVID-19 was inside the building. It is a detailed, acute 10-ft down disinfection which includes a deep cleaning and decontamination.
RED TIER:
Confirmed Coronavirus Eradication Response
Red Tier is an immediate, aggressive and intensive coronavirus eradication plan. It is in response to a confirmed case of COVID-19 Coronavirus on the premises and inside one or more of the buildings. This process is immediate and assiduous. We will customize a plan of action specific to you, the client, your business, employees and customers.
WE CARE ABOUT THE SAFETY OF YOUR EMPLOYEES, YOUR BUSINESS, AND YOUR COMMUNITY
When selecting a company to provide Coronavirus Disinfection Services, it is important that you select a company, like Strength H2O Industrial Solutions, that is OSHA compliant and follows all CDC guidance regarding Coronavirus.
Responsibilities of Employers
Let Us Keep Your Facility Open And Everyone Safe!
Protect your business and your staff/customers from getting and spreading respiratory illnesses coronavirus disease 2020. Everyone has a role to play in getting ready and staying healthy.
General Duty Clause, 29 USC 654, section 5(a)(1) requires that employers protect their employees from recognized hazards.
"Each employer shall furnish to each of his employees employment and a place of employment which are free from recognized hazards that are causing or are likely to cause death or serious physical harm to his employees."
In Addition, the coronavirus is not listed as an exception to recording an occupational illness in 29 CFR 1904.5(b)(2). This means that if an employee contracts COVID-19 from another employee or through occupational exposure on a cleaning job, the illness is recordable on the OSHA log for that business. If it results in job restriction, days away or fatality, this is also required to be recorded.
There's a requirement to contact OSHA to actually REPORT a fatality or hospitalization if it is from Coronavirus. In the case of a death, an OSHA inspection and investigation would follow and could result in a fine if the company didn't take measures when they knew about it and should have.
Call Today At 734-999-0444
How Much Would Downtime Cost Your Company?
Our preventive programs can help prevent your facilities staff/customers from spreading the Coronavirus, our team will decontaminate the facility and everyone entering and exiting it. This will allow you to focus on running your business and not worry about having to shut down. Shutting down could be extremely costly, our team can dispatch immediately and start protecting your facility.
We can service all types of facilities in a variety of sizes, such as:
Automotive Manufacturing
Educational & Universities
Shopping Centers
Office Buildings
Casino's
Housing Complexes
Manufacturing
Sports Complexes
Hospitals
Coronavirus Cleaning Michigan Completed The Correct Way!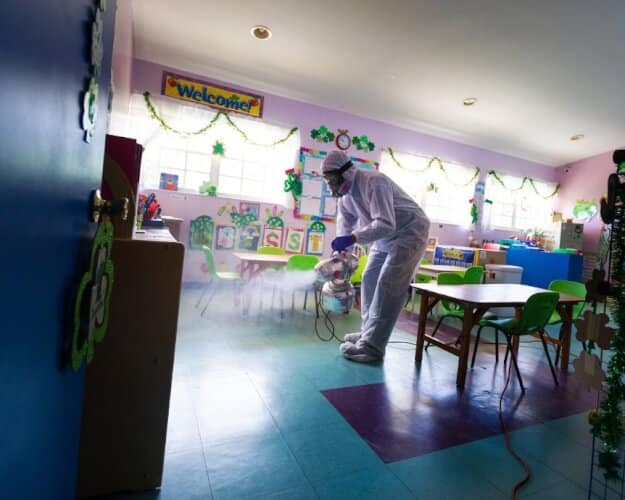 Disclaimer
Though Strength H2O Industrial Solutions follows  strict protocols  for Disease Control Prevention, there is no testing that exists to ensure total elimination of the coronavirus. Strength H2O Industrial Solutions guarantees that its cleaning protocol curbs the spread and threat of coronavirus. However, it cannot guarantee with 100% certainty the total eradication of it.