MICHIGAN HRSG CLEANING SERVICES
Michigan dry ice blasting is the most common and industry accepted practice in cleaning Michigan heat exchangers and coils in heath steam recovery generators. Also, heat exchangers are typically outside so they are very susceptible to things such as pollens, dust, and carbon residue. In addition, this builds up can create loss of efficiency of the exchangers and reduces the performance and life of the coils. Strength H2O Industrial Solutions will eliminate these unwanted contaminants without any damage to the substrate. Most importantly, this will guarantee your heat exchangers will yield a higher rate of efficiency and this will cause them to run much cooler.
Heat recovery steam generators cleaning decreases the back pressure and increase heat transfer to give you back your lost megawatts. Dry Ice Blasting Michigan is the most effective, safest and cleanest way of cleaning power generation equipment. Ultra-deep cleaning of HRSG module banks using Michigan dry ice blasting, is considered industry best practice. By reducing the back pressure, via dry ice blasting of the HRSG, performance will be improved due to recovering lost MW capacity. Our turnkey cleaning systems make sure ammonia salts, sulfur deposits, corrosion and all other substrate contaminants are removed in their entirety from the gas side of the fin tubes within the HRSG
Michigan Dry Ice Blasting and HRSG Cleaning
The goal of a proper HRSG cleaning is to decrease the backpressure and increase heat transfer.
Utilizing high pressure to better clean the fin tubes.
350 PSI at 1300 CFM compressor exclusively.
Proper planning to ensure each tube lane is addressed.
Time management affording our team the proper time to perform the job.
Before and after pictures along with borescope inspection after cleaning to ensure nothing has been missed.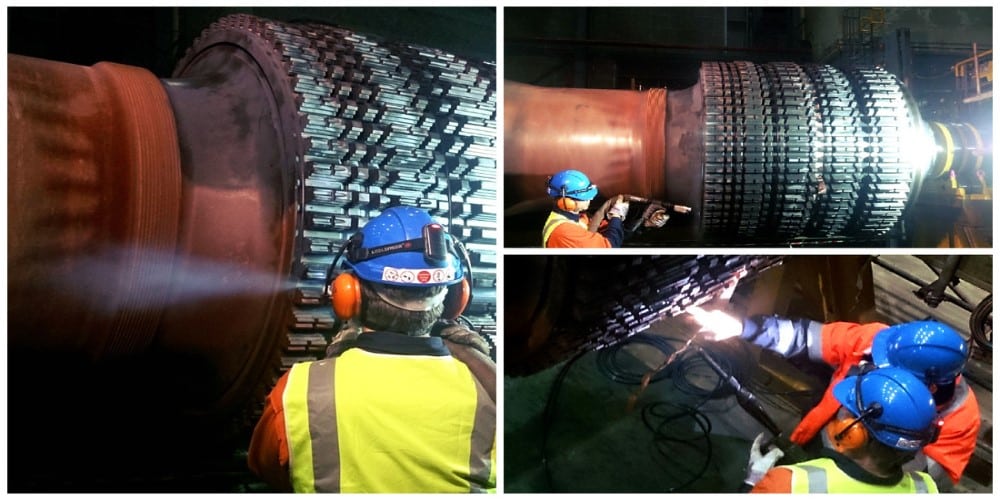 Dry Ice Blasting Michigan And Tube Lane Manipulation
Strength H2O Industrial Solutions utilizes a custom deep cleaning nozzle. It is the only nozzle that puts dry ice on the backside of the tube bundles.
Tube lane manipulation is used to gain further access to the deepest parts of the tube bundles. In order to do this, our custom nozzle assembly is inserted to blow high-velocity air to ensure cleaning of each tube in the open lane, is accomplished.
After each lane is cleaned and inspected we move to the next opened lane and repeat the process.
Why Choose Strength H2O For Your Michigan HRSG Cleaning
What sets us apart from other Michigan HRSG dry ice blasting companies is our modern equipment. Strength H2O is committed to using the most advanced dry ice blasting Michigan units available on the market today!
We use leading research, the latest technology available and state-of-the-art dry ice blasting equipment in Michigan!
Strength H2O uses a single hose system in comparison to an older double hose system. The single hose system propels the ice at 900 fps. which makes for the most powerful and most efficient ice blasting machine around.
A single hose system is not limited by hose length. With a dual hose system the further you are away from the unit, your production slows because the volume of ice coming out the nozzle is severely compromised.
We also have a wide array of custom nozzles to work with. This enables us to get better cleaning results by being able to pinpoint specific areas and angles to be cleaned.
Strength H2O Industrial Solutions is aware that your project is highly time sensitive. Every one of the expert Michigan Dry Ice Blasting staff members is aware that we are working on a revenue producing piece of equipment and that time is of the essence. We strive to do the best work in the shortest amount of time required to do the job safely.
When our team is finished with a Michigan HRSG cleaning, our goal is simple…It is to satisfy the customer, help them to increase their bottom line and allow them to see, firsthand, their ROI.
BENEFITS OF DRY ICE BLASTING IN MICHIGAN POWER PLANTS
There are several benefits to Michigan dry ice blasting HRSG's. With Strength H2O Industrial Solutions, there is no secondary waste stream or foreign product introduced since, upon impact, the frozen CO2 sublimates to a gas. So, the only residue to clean up is the debris and contaminants that were cleaned from the surface, reducing the cost and time of the process. In addition, Michigan dry ice blast cleaning does not promote corrosion and abrasion, is USDA, FDA, and EPA approved, and is an ecofriendly safe process.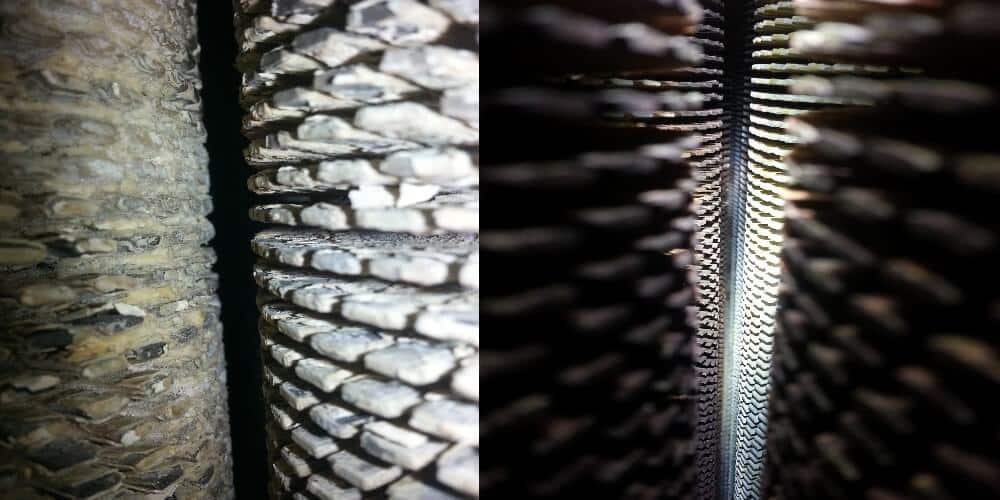 Strength H2O Industrial Solutions Services All Industries, Some of The Most Common Are:
Our Recent Michigan Dry Ice HRSG Cleaning News