PROFESSIONAL MICHIGAN PRINTING PLANT EQUIPMENT CLEANING
Strength H2O Industrial Solutions provides printing press cleaning for all types of presses: flexography, gravure, offset and web-fed. Heavy machinery cleaning is designed to remove the build-up of ink, grease, paper dust, spray powders, oil and other built-up coatings which can cause alignment problems and high scrap rates. If these coatings are not removed, vent slots may be clogged, and material build-up on other components can result in reduced print speed.
Our Michigan dry ice cleaning services are fast, cost-effective and non-toxic. Strength H2O Industrial Solutions's highly trained technicians blast solid CO2 particles at the surface of your equipment, and these particles sublimate on impact, cleaning the printing press by lifting built-up coatings, dirt and other contaminants off the underlying substrate.
Traditional heavy machinery cleaning methods, including scraping and wiping with chemical solvents, are usually delayed as long as possible to avoid lengthy production downtime. However, our Michigan printing press cleaning services are able to effectively clean your machinery in a fraction of the time - safely, efficiently and with very little downtime.
Strength H2O Industrial Solutions Services All Industries, Some of The Most Common Are:
DRY ICE BLAST CLEANING PRINTING EQUIPMENT MICHIGAN
Michigan dry ice cleaning allows precise cleaning with reduced downtime for the Michigan commercial printing industry. Ice blasting utilizes C02 in liquid frozen form that is delivered at high pressure in a vapor to expertly clean printing equipment. In addition, this procedure enhances equipment performance and increased productivity in the Michigan Commercial Printing Industry. Strength H2O's dry ice blasting systems enables lengthy cleaning processes to be shortened by on-line precision cleaning. Also, Ink accumulation on the gears and deck guides causes poor alignment and results in low print quality and a higher scrap rate.
Michigan dry ice blasting can eliminate or greatly reduce lower quality and higher scrap rates. In most Michigan printing plants, the cleaning of the side frames and print deck mechanism is typically avoided until deemed absolutely mandatory. Normally it would take several hours on each color station to scrape and wipe the important surfaces. But with today's modern presses possessing six to eight color decks, cleaning downtime can quickly add up to thousands of dollars of lost production per cleaning cycle. However, when using our dry ice blasting services because the cylinders are able to be removed to allow easy access to all surfaces on both sides of the deck can be cleaned in as little as 10-15 minutes before resuming production.
Often Printing with fluid inks at higher speeds can create a mist of ink and fine droplets that comes from the splitting and transfer of the inks from the printing plate to the substrate being printed. Also, The droplets tend to settle between the color dryer boxes and eventually clog the vent slots or nozzles. Typically resulting in a greatly reduced and uneven flow of air which in turn inhibits proper drying. To compensate for the reduced airflow, the press speed is slowed down and immediately results in lost production and lower quality.
Michigan dry ice blasting replaces the use of harsh chemicals, hand scrapping and chisels without having to dismantle the printing press therefore eliminating most direct and indirect downtime costs. Also, eliminating increased scrap rates, low quality printing, and unnecessary wear and tear on machinery.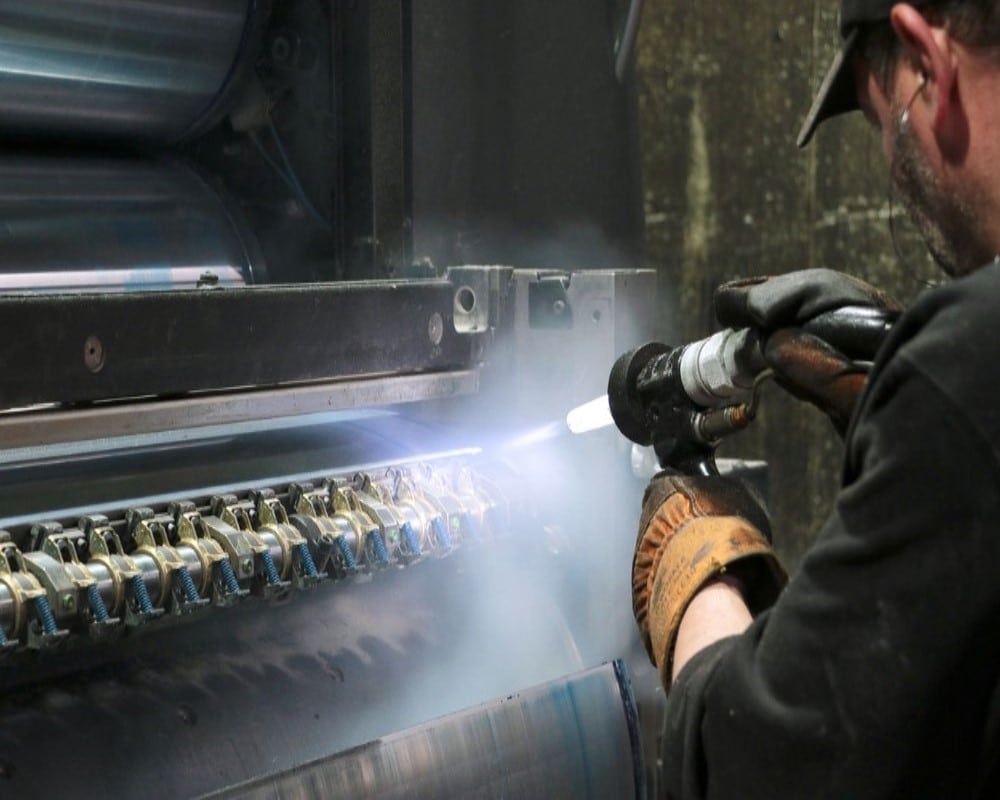 Our Recent Printing Equipment Dry Ice Blast Cleaning Michigan News